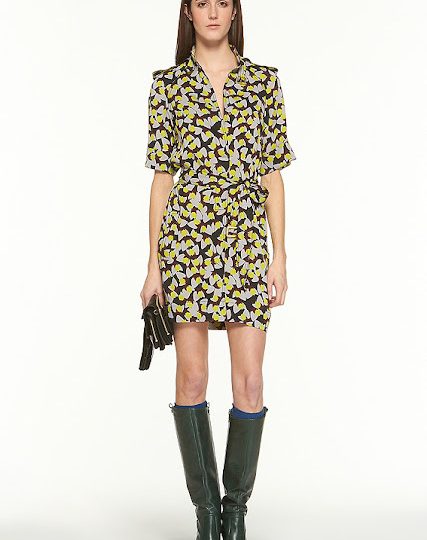 Over the weekend, while lamenting to a friend about the impossibility of rocking feather extensions to the office, I came up with a new feature here on LOF which is really going to be more of a "how-to" guide.  I am going to call it:  "Taking Trends to the Office."  Why did I feel this was necessary?  Because it is damn near impossible to take most trends to the office as a "professional." You know, being trendy is often identified with being young and immature.  Whilst I vehemently disagree, balancing my penchant for trendy and fashionable duds with the unfortunately equally important perceptions of my colleagues can be a chore.
So where to start?  While there were *so many* trends that I felt were equally impossible to adapt to a "take-me-seriously" environment, not one says "I am thirty but I act like I am fifteen" quite like NEON.  
So "how-to" NEON in the office?  I say start small.  Choose but one item of bright and then tone it down with lots-o-neutrals.  It takes the sting out and, if you keep it nice and structured, confuses the viewer into thinking it is just a-lot of color instead of, what it actually is – NEON.  A perfect example are these Key-Lime diddies DVF is doing (I have, and love, the blouse on the left).  I pair the color (which is bright neon in person) with fuddy duddy colors like below.  Picture either of these with a pair of chocolate (think the shorts the model has on) trousers and a pair of wedges.  Lovely, and perfectly professional.
Another option is putting the neon into a print.  If the base colors of the print are all neutrals or staple colors (black, brown, nude, gray, etc.) then the neon both pops but doesn't overwhelm.  This DVF shirtdress (again, give the NEON structure and it will detract from the insanity) is a perfect example.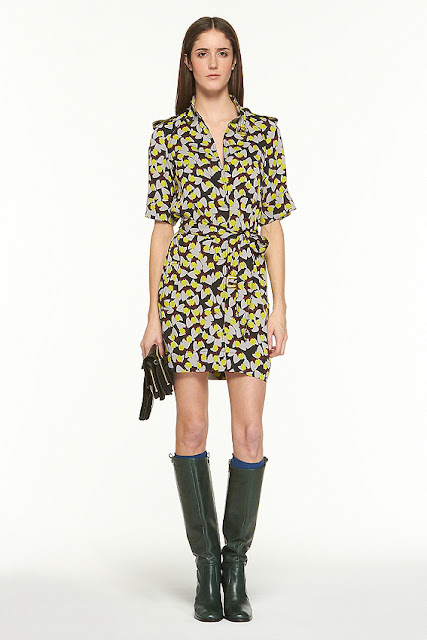 If you think your office is not quite ready for full on garment NEON, then start with accessories.  They are small and they pack a big color punch.  My favorite NEON accessory of the moment has to be this Proenza Schouler satchel.  It is structured just like a briefcase – but green (or yellow, or orange as the case may be).  So on trend, and yet no one could say the bag isn't practical.  I am fairly certain all of my briefs would fit inside.
And last, but most certainly not least – SHOES!  I am the queen of crazy shoes to begin with, and nothing is more sexy than color.  So why not bring in your NEON that way?  These Pollini shoes (on sale at Milk Boutique) are perfection.  I picture then with a black high-waisted skirt, and a pale blue silk top.  To Die.